Asset markets endured further pain during the second week of May as investors tried – and largely failed — to square tighter monetary policy in the US and other markets with the latest global GDP forecasts. The World Bank, which came in 2022 forecasting global GDP growth of 4.1% for the year, dropped that estimate to 3.2% in April and is expected to lower it again after data showed the US economy contacting by 1.4% in the first quarter.
EPFR-tracked funds reflected the broad loss on confidence, with Emerging Markets and Europe Equity and Bond Funds the hardest hit. Redemptions from Emerging Markets Bond Funds reached their highest weekly total since the initial shock of the Covid-19 pandemic hit markets in late 1Q20 while outflows from Emerging Markets Equity Funds climbed to a 100-week high.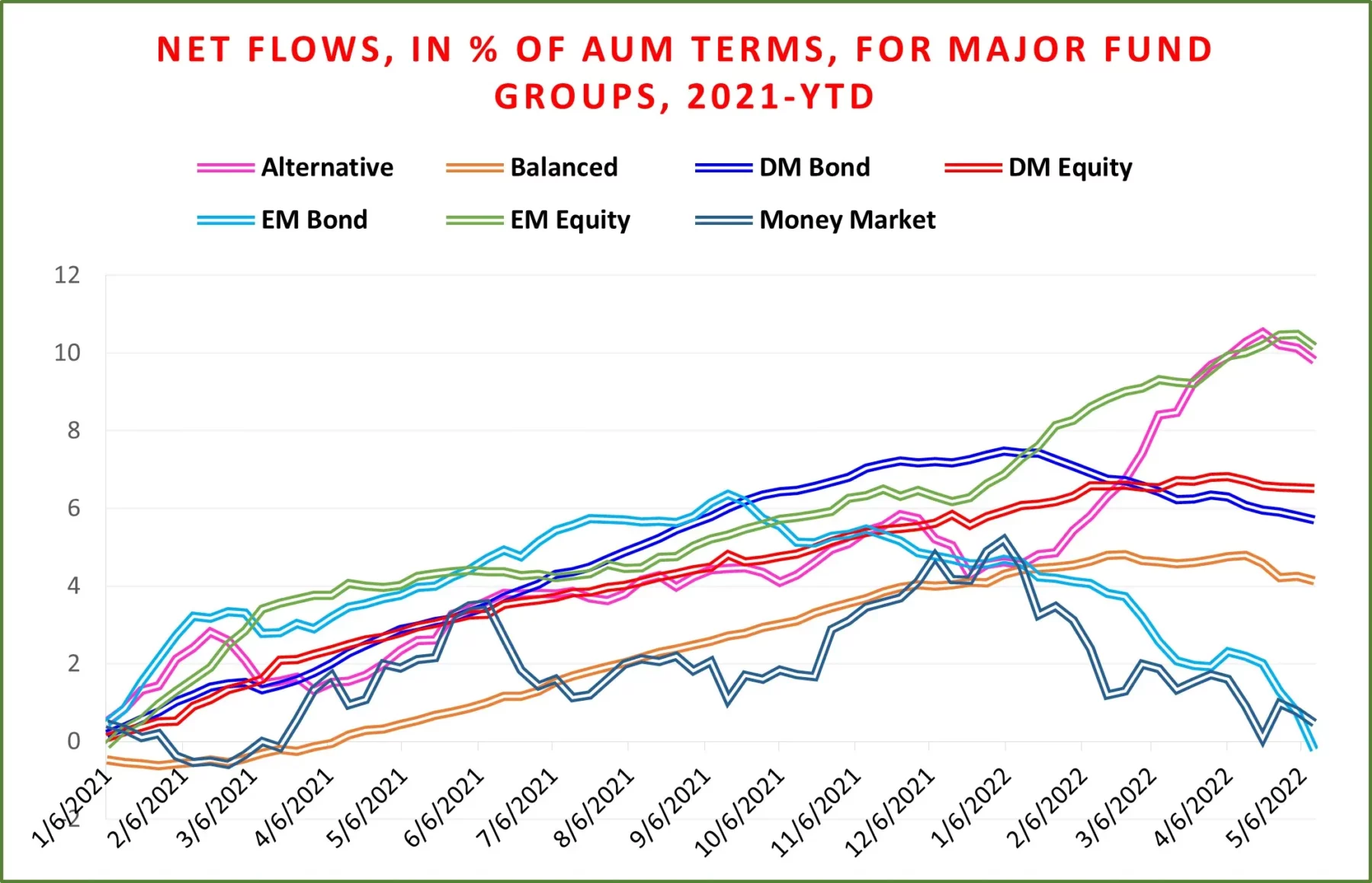 Overall, Equity Funds posted a collective outflow of $6.2 billion during the week ending May 11 despite the over $3 billion that was committed to Dividend Equity Funds. Investors pulled $1.8 billion out of Alternative Funds, $1.97 billion from Balanced Funds, $11.3 billion from Bond Funds and $19.5 billion from Money Market Funds.
Cryptocurrency Funds continued to attract fresh money during the second week of May, with inflows hitting a 31-week high, as the virtual asset class sailed into a storm that reduced the value of one "stable coin" to zero. Daily data showed flows reversing sharply the day after the latest weekly reporting period ended.
At the single country and asset class fund levels, Bank Loan and Total Return Bond Funds posted their biggest outflows since late 2Q20 and late 1Q20, respectively. Germany Equity Funds recorded their first inflow since early February, over $2 billion flowed out of China Bond Funds for the second week in a row and Brazil Equity Funds experienced net redemptions for the sixth time in the past eight weeks.
Did you find this useful? Get our EPFR Insights delivered to your inbox.