Although the flow of unsettling developments continued in late May – will Covid-19 pass the baton to Monkeypox? – investors recovered some of their appetite for exposure to US assets. The week ending May 26 saw EPFR-tracked Equity Funds snap their longest redemption streak since 3Q19 thanks to the biggest flows into US Equity Funds since the second week of March while US Bond Funds posted only their second inflow during the past eight weeks.
Emerging Markets Bond and Europe Equity Funds also saw a marked drop-off in the pace of redemptions, with the latest week's outflows from the former less than half of the previous week's total and redemptions from Europe Equity Funds falling to a 15-week low.
It was another good week for Dividend Equity Funds, which have recorded inflows 19 of the 21 weeks year-to-date that now total $46 billion. Funds with US and global mandates have absorbed the bulk of this fresh money.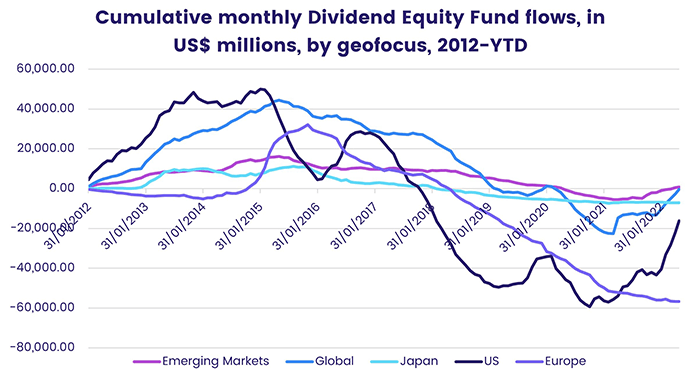 Overall, EPFR-tracked Equity Funds posted a collective inflow of $16.5 billion during the week ending May 25. Investors also steered $15.1 billion into Money Market Funds, $991 million into Alternative Funds and $163 million into Balanced Funds and while $5.9 billion flowed out of Bond Funds.
At the single country and asset class fund levels, Cryptocurrency Funds posted inflows despite European Central Bank President Christine Lagarde stating that this asset class is 'worth nothing' and Inflation Protected Bond Funds snapped their four-week outflow streak. Redemptions from Italy and France Equity Funds hit six and 23-week highs, respectively, while Russia Bond Funds posted their first inflow since the third week of March and Germany Bond Funds posted their largest inflow in exactly a year.
Did you find this useful? Get our EPFR Insights delivered to your inbox.