Against a backdrop of market volatility, slowing economic growth in Europe and North America, gasoline prices and mortgage rates in the US firmly above $5 a gallon and 5%, respectively, continued fighting in Ukraine and ongoing Covid-related disruptions to China-based supply chains, investors pulled over $45 billion from EPFR-tracked Equity, Bond, Alternative and Balanced Funds during the third week of June.
Caught up in this broad retreat were Cryptocurrency Funds, which posted their biggest weekly outflow on record, and funds with socially responsible (SRI) or environmental, social and governance (ESG) mandates. SRI/ESG Equity Funds posted consecutive weekly outflows for only the second time since the beginning of 2020 while redemptions from SRI/ESG Bond Funds climbed to a 112-week high.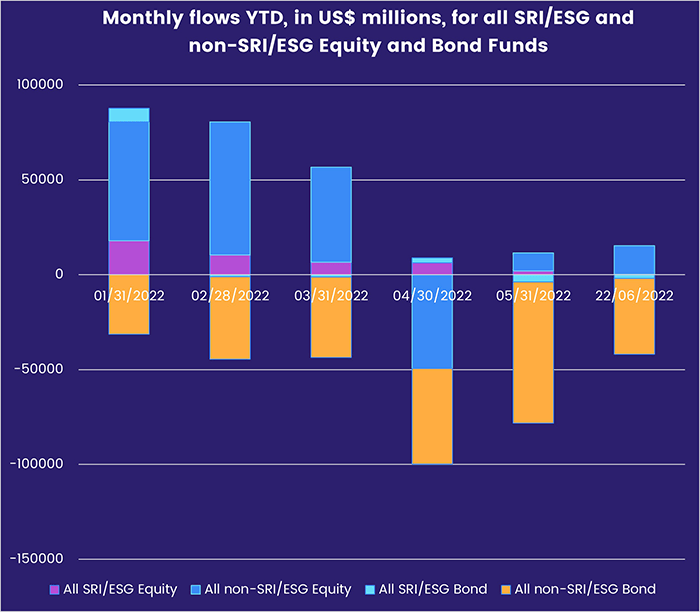 Dividend, Global and China Equity Funds continued to swim against the tide, as did Infrastructure and Technology Sector Funds, and both Gold and Silver Funds attracted modest amounts of fresh money.
Overall, investors pulled a net $23.4 billion from EPFR-tracked Bond Funds during the week ending June 22. Alternative Funds saw $2.68 billion redeemed – a 26-week high – while $4.1 billion flowed out of Balanced Funds and $16.8 billion out of Equity Funds.
At the asset class and single country fund levels, both Convertible and Total Return Bond Funds posted their biggest weekly outflows since 1Q20, Mortgage Backed Bond Funds experienced net redemptions for the eighth consecutive week and High Yield Bond Funds chalked up their 20th outflow in the past 24 weeks. Flows into Canada Equity Funds hit a 20-week high, Saudi Arabia Equity Funds snapped a six-week run of outflows, Norway Equity Funds recorded their seventh straight outflow and over $1 billion flowed into Korea Equity Funds.
Emerging Markets Equity Funds
Although China Equity Funds posted their third straight inflow and commitments to Korea Equity Funds climbed to a 72-week high, EPFR-tracked Emerging Markets Equity Funds saw their latest inflow streak end after a single week as outflows from the diversified Global Emerging Markets (GEM) Equity Funds hit a year-to-date high.
Retail investors were net redeemers from this fund group for the 10th time in the past 11 weeks, SRI/ESG EM Equity Funds racked up their fifth outflow in the past seven weeks and European-domiciled funds surrendered nearly $4 for every dollar pulled out of their US-domiciled counterparts.
Among the major regional fund groups, Asia ex-Japan and Latin America Equity Funds recorded inflows while EMEA Equity Funds posted their sixth outflow in the past seven weeks. Within the EMEA universe, both investors and fund managers continue to deal with the pariah status that Russia has earned because of its attack on Ukraine. Managers of EPFR-tracked EMEA Equity Funds came into 2022 with, on average, a third of their portfolios allocated to Russian assets. By early May they had reduced that exposure to nearly zero. South Africa and Saudi Arabia are, so far, the major beneficiaries. This broad reallocation has bypassed Poland and Turkey whose average weightings are down year-to-date.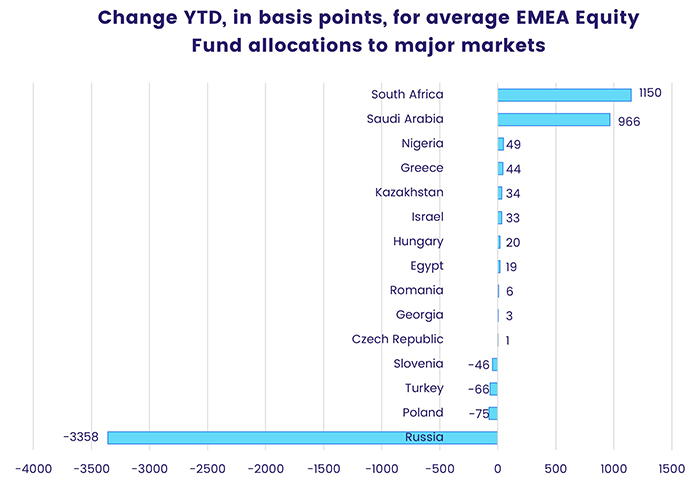 Flows into China Equity Funds were a sixth of the previous week's total and lagged the totals recorded by Taiwan (POC) and Korea Equity Funds. In the case of the latter, the headline number was underpinned by flows into domestically domiciled funds while foreign domiciled Korean Equity Funds posted their 15th outflow in the past 16 weeks. Korea's currency and equity markets have endured a torrid month, with bouts of panic selling as the won slipped to a 12-year low against the US dollar.
Latin America Equity Funds, meanwhile, posted their fourth straight inflow despite another left-of-center president gaining power. Gustavo Petro won the runoff for Colombia's presidency on a platform that included curbing the role of extractive industries in the country's economy. Colombia Equity Funds racked up their 12th consecutive outflow, but this was offset by solid flows into Brazil and Mexico Equity Funds.
Did you find this useful? Get our EPFR Insights delivered to your inbox.