With Russia's invasion of Ukraine heading into its third week, investors stepped up their exodus from Europe Equity Funds during the seven days ending March 9. Those tracked by EPFR saw weekly redemptions exceed $10 billion for the first time ever as combined outflows from Europe Equity and Bond Funds since Russia's attack started on Feb. 24 climbed past the $25 billion mark.
The week ending March 9 was also a painful one for many EPFR-tracked Bond Fund groups as US Federal Reserve rate-setters prepared to meet against a backdrop of surging energy and commodity prices. Global Bond Funds recorded their biggest outflow in exactly one year while redemptions from Emerging Markets Bond Funds climbed to a 101-week high.
Equity investors continued to rotate some exposure to Asian markets, with combined flows to China, Greater China, Taiwan (POC) and Hong Kong (SAR) Equity Funds exceeding $6 billion and flows to Japan Equity Funds hitting a 19-week high.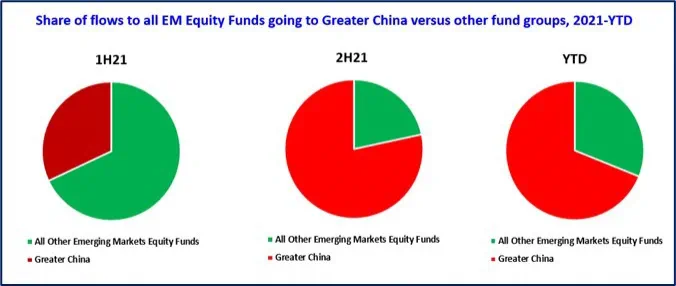 Alternative and Gold Funds also attracted above average flows, with the former recording their biggest inflow since the third week of 2Q20 and Gold Funds their biggest since 3Q20, while tightening global energy and commodity supplies chased over $4.5 billion into Energy and Commodities Sector Funds.
A week after they posted their first outflow since mid-3Q20 and biggest on record, Equity Funds with socially responsible (SRI) or environmental, social and governance (ESG) mandates recorded consecutive weekly outflows for the first time since early 4Q16. SRI/ESG Bond Funds, meanwhile, chalked up their second outflow in the past three weeks.
At the asset class single country fund levels, flows to Brazil Equity Funds climbed to a 19-week high and Taiwan (POC) Equity Funds chalked up their biggest inflow since late 2Q19 while Italy Bond Funds posted their 10th outflow in the past 12 weeks and Italy Equity Funds recorded their biggest weekly outflow since mid-2Q18. Investors pulled over $3 billion out of Total Return Funds, extended Convertible Bond Funds current outflow streak to 16 weeks and $5.9 billion, pulled money out of Bank Loan Funds for only the third time since the beginning of 3Q21 and ended Cryptocurrency Funds latest run of inflows.
Did you find this useful? Get our EPFR Insights delivered to your inbox.