The second week of February was another bumpy one for financial markets as Russian sabers rattled along the Ukrainian border, the price of a barrel of West Texas Intermediate crude oil hit $95 a barrel for the first time since 3Q14 and some US Federal Reserve policymakers talked of a 50 basis point hike in March. Fund flows reflected the uncertainty, with flows into all EPFR-tracked Equity Funds falling to less than a twentieth of the previous week's total and redemptions from Bond Funds climbing again to a 49-week high.
The Fed is not the only central bank whose messaging is rattling investors. Although the European Central Bank (ECB) has soft-pedalled its recent admission that keeping the lid on inflation may require more than just waiting patiently for it to subside, Europe Equity and Bond Funds both posted outflows during the week ending Feb. 16. The combined outflows were the largest since the first week of December.
There was still appetite for less conventional asset classes. Alternative Funds, which saw over $9 billion redeemed during the final month of 2021, posted their fifth straight inflow as their year-to-date total climbed past the $10 billion mark. Flows to Cryptocurrency Funds, meanwhile, jumped to a 12-week high ahead of a report from the Financial Stability Board highlighting the risks that digital currencies could pose to financial stability.
It was another tough week, flow wise, for liquidity funds. Europe Money Market Funds extended their longest outflow streak since 1Q21, and US Money Market Funds posted their fifth largest weekly outflow since EPFR started tracking them in 1Q07. US Money Market Funds, which face the possibility of another round of reforms, have seen over $240 billion flow out so far this year.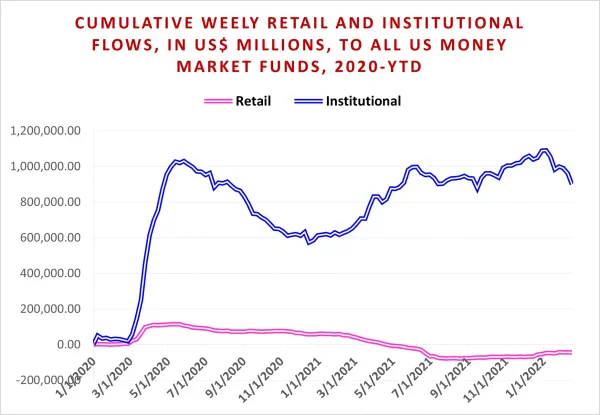 At the single country and asset class fund levels, investors pulled money out of Inflation Protected and Mortgage-Backed Bond Funds for the fourth and 13th straight weeks, respectively, while Bank Loan Funds chalked up their 11th straight inflow. Redemptions from Italy Bond Funds hit their highest level since mid-1Q21, Italy Equity Funds recorded their biggest outflow in over 20 months, flows into Canada Equity Funds hit a 55-week high and outflows from China Bond Funds were the biggest on record.
Did you find this useful? Get our EPFR Insights delivered to your inbox.