In this blog, EPFR's Steven Xinlei Shen expands on an Investor's Business Daily recent article, Tesla Stock Gathers Steam As Reports Show EV Giant Hits Brakes On China Plant Production.
View from EPFR
Last month, Tesla halted the production line at its Shanghai plant to improve and retool the facility for the new Tesla Model 3. This drew a mixed response from market participants. Improving production lines and product line-ups will, if successful, strengthen the brand in the long term. In the short term, however, it will have a significant impact on vehicle deliveries. In this Off the Wire, we explore how investors and fund managers reacted to the incident through the lens of EPFR's stock level flows and allocation data.
According to EPFR's Stock Flow dataset, the average allocation – expressed as a percentage of total assets – among funds holding Tesla stock jumped after four months of decreasing allocations from both active and passive funds. The spread between active and passive funds remained largely unchanged: active funds have been under-weight relative to passive funds since December 2020.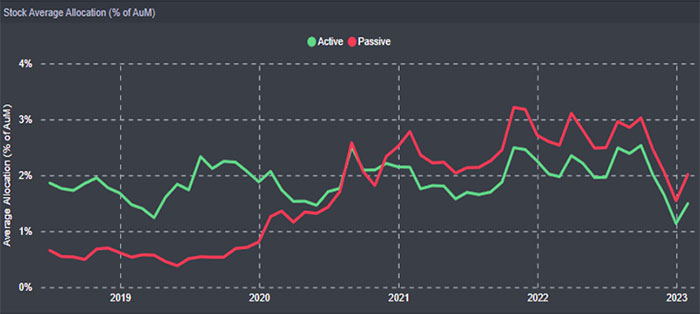 Despite the bounce back in allocations, signaling a more positive long-term view among fund managers, ETFs and mutual funds have been net sellers of Tesla stock in recent weeks as managers of both actively and passively managed funds responded to persistent redemptions.

On a year-to-date basis, EPFR's data shows Tesla ranking 11th within the S&P 500 universe when it comes to flows in $US millions, with majority of the outflows attributable to passive funds. The silver-lining here is that active funds started to increase flows into the stock recently, highlighting the increased relative value they see in keeping Tesla stock in their portfolios. Some of the 'steam' around Tesla comes because a hot stock is meeting a chiller market climate.

Did you find this useful? Get our EPFR Insights delivered to your inbox.