Fund flows ended July with a whimper. Redemptions from EPFR-tracked Equity and Bond Funds hit their highest daily totals since June 28 and the final day of 2018 respectively as investors tried to make sense of the US Federal Reserve Open Markets Committee's decision to cut interest rates by 25 basis points. Bulls were disappointed by Fed Chair Jerome Powell's assertion that the cut was simply a "mid-cycle adjustment", and not the start of an extended period of monetary easing, while bears viewed the cut as a political decision that increases the risk of market imbalances.
In the run up to the FOMC's well-telegraphed decision, investors focused on the anticipated weakening of the US dollar. For emerging markets with hard currency debt, a weaker dollar cuts the local currency costs of servicing that debt. But it also erodes the competitiveness of companies exporting to the US. Flows to Emerging Markets Bond Funds climbed to a 13-week high while Emerging Markets Equity Funds posted their 15th consecutive outflow.
Overall, investors pulled a net $1.67 billion out of EPFR-tracked Equity Funds during the week ending July 31. Money Market Funds saw $8.1 billion flow out. Flows into all Bond Funds totaled $10.5 billion, lifting their year-to-date total to $375 billion.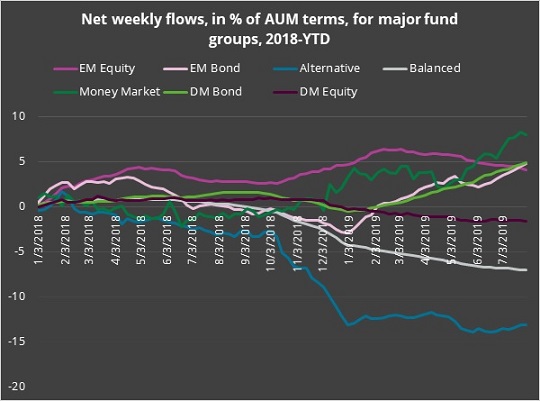 Did you find this useful? Get our EPFR Insights delivered to your inbox.