Four out of five US companies that have reported third quarter earnings exceeded consensus expectations. Meanwhile, three out of five US businesses report they raised prices in the past 90 days as headline inflation climbed to a 31-year high of 6.2% in October.
Celebrate the pricing power of US companies? Accept that the Federal Reserve is behind the curve and allocate accordingly? Cling to the official narrative that inflation is transitory and will ebb as supply catches up with demand? Go green? Investors during the first week of November found themselves, as has been true for much of 2021, trying to square off a bewildering range of circles.
From a fund flow perspective, the week ending Nov. 10 saw groups and themes that have fared well for most of 2021 continue to attract fresh money. Inflation Protected Bond Funds extended their current inflow streak to 51 weeks and $87 billion, Global Equity Funds extended a run of inflows stretching back to late 1Q20 and US Bond Funds took in fresh money for the 83rd time in the past 84 weeks. Equity Funds with socially responsible (SRI) or environmental, social and governance (ESG) mandates pulled in over $5 billion and SRI/ESG Bond Funds posted a new weekly inflow record.
Also hitting new highs were exchange traded funds (ETFs). Assets parked in the ETFs tracked by EPFR now exceed $10 trillion. These funds, which passively track an index, commodities or baskets of other assets and can be traded on stock exchanges, came into 2020 having hit the $7 trillion mark in early 4Q20. Since then, the pace of inflows has accelerated dramatically. Equity ETFs now account for a quarter of the assets held by all Equity Funds while 15% of all Bond Fund assets are lodged in ETFs.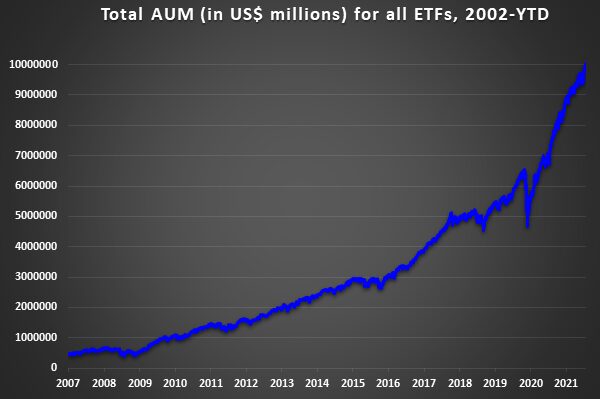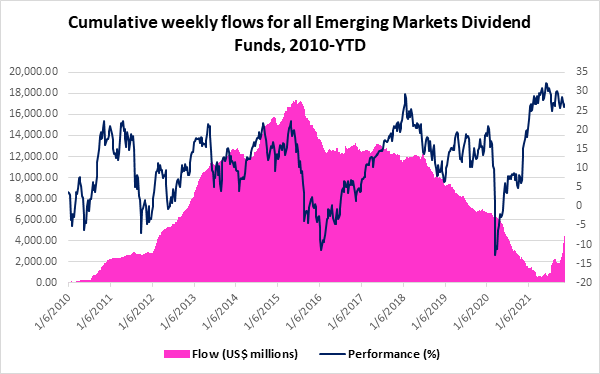 Did you find this useful? Get our EPFR Insights delivered to your inbox.