Dead cat bounce or the start of a new bull market? The Dow Jones Industrial Average and the Nasdaq ended the second week of August at levels last seen in early May and late April, respectively, while the yield on the 10-year US Treasury note remained below 2.9%. Flows to EPFR-tracked funds responded – to a degree – with Equity Funds recording their biggest inflow since the second week of June, flows into Balanced Funds hitting an 18-week high and Bond Funds recording their second largest inflow year-to-date.
Equity investors remain cool to Europe, with dedicated Europe Equity Funds seeing another $4.8 billion flow out as their current redemption streak hit 26 weeks and $81 billion, during a week when drought compromised the navigability of the Rhine and put further stress on France's power grid.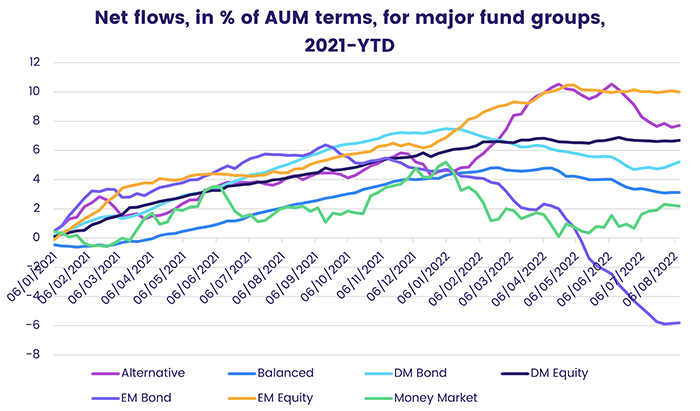 Overall, the week ending August 10 saw EPFR-tracked Equity Funds absorb a net $7 billion, with a fifth of that total going to Dividend Equity Funds, while Bond Funds attracted $11.6 billion, Balanced Funds $863 million and Alternative Funds $583 million. Some $4 billion flowed out of Money Market Funds, although dedicated China Money Market Funds extended their longest inflow streak since 4Q20.
At the single country and asset class fund levels, Convertible Bond Funds snapped a nine-week run of outflows, Inflation Protected Bond Funds extended their longest redemption streak since 1Q20 and flows into Mortgage Backed Bond Funds hit a 15-week high. Flows into Turkey Bond and Equity Funds hit eight and 16-week highs, respectively, money flowed out of China Bond Funds for the 24th time in the past 25 weeks and Netherlands Equity Funds recorded their biggest inflow since the first week of April.
Did you find this useful? Get our EPFR Insights delivered to your inbox.