Investors went for big and growing during the second week of April. China Equity Funds rebounded from their first consecutive outflows since mid-3Q20 with their eighth biggest weekly inflow on record while US Equity Funds absorbed fresh money for the ninth time in the past 10 weeks and flows into UK Equity Funds hit a 51-week high. The world's first, second and fifth largest economies are now expected to post full year growth in excess of 6%, 8% and 5% respectively.
In addition to rewarding growth, investors continued to act on their assumptions that environmental, social and governance (ESG) principles will be, to significant degree, embedded in this and future growth, and that growth at this torrid pace will generate inflation. Year-to-date flows into SRI/ESG Equity Funds pushed over the $100 billion mark, Inflation Protected Bond Funds saw net flows since their current inflow streak began hit $32 billion and Bank Loan Funds took in fresh money for the 15th straight week.
Overall, EPFR-tracked Bond Funds absorbed a net $17.8 billion during the week ending April 14 versus $190 million for Alternative Funds, $3.8 billion – a one-year high – for Balanced Funds and $25.6 billion for Equity Funds. Redemptions from Money Market Funds were the largest since the second week of 3Q20, which also preceded a major US tax deadline.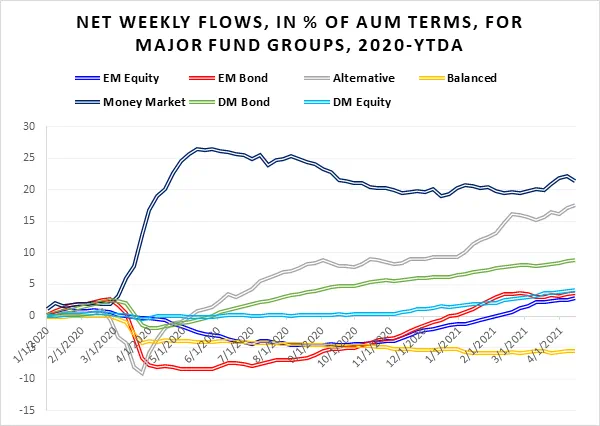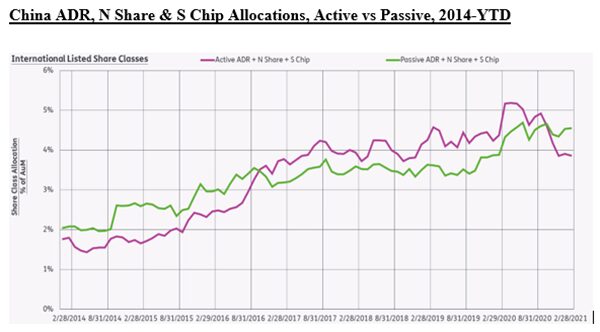 Did you find this useful? Get our EPFR Insights delivered to your inbox.