The third week of July was a tense one for investors with a European focus, who waited for the answers to a number of thorny questions. Would Russian gas start flowing again through the Nord Stream 1 pipeline? Would Italian Prime Minister Mario Draghi retain the support of his coalition government? Would the European Central Bank act on previous guidance and raise interest rates for the first time in 11 years? When will one of the worst heatwaves ever experienced by Europe break?
Europe Equity Funds, which have been buffeted by a wide range of issues since mid-February, ended the week by posting their 23rd consecutive outflow while Europe Bond Funds chalked up their 12th outflow in the past 15 weeks. The uncertain outlook for developed European markets spilled over into fund groups dedicated to peripheral emerging markets. Emerging Europe, Europe, Middle East and Africa (EMEA) and Middle East Regional Equity Funds all posted outflows, as did Israel, Egypt and Turkey Equity Funds.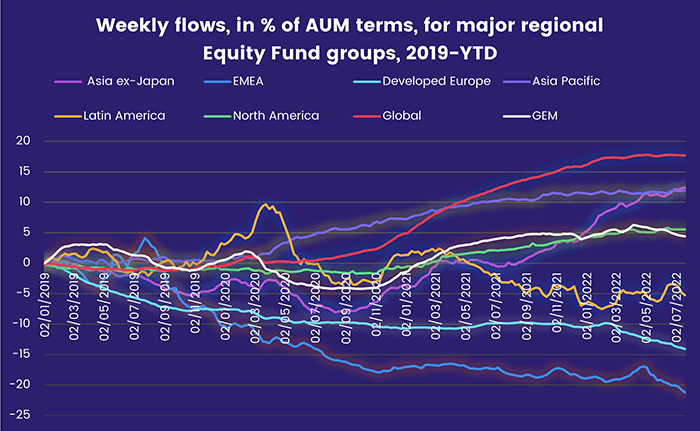 Overall, the week ending July 20 saw a net $4.5 billion flow out of all EPFR-racked Equity Funds and $8.1 billion from Bond Funds. Investors pulled $1.5 billion out of Alternative Funds and $2.1 billion from Balanced Funds while Money Market Funds attracted $3.4 billion.
At the asset class and single country fund levels, redemptions from Canada Bond Funds jumped to a 44-week high, China Bond Funds racked up their 23rd outflow in the past 24 weeks, Italy Bond Funds posted consecutive weekly inflows for only the second time year-to-date and Saudi Arabia Equity Funds experienced their heaviest redemptions in over two-and-a-half years. Cryptocurrency Funds snapped their six-week run of outflows, outflows from Inflation Protected Bond Funds climbed to a four-week high and Convertible Bond Funds recorded their 32nd outflow in the past 34 weeks.
Did you find this useful? Get our EPFR Insights delivered to your inbox.