The Northern hemisphere's summer solstice, which occurs on June 21, marks the day when it is light for the longest period. In the week preceding that date, however, investors could be excused for thinking the solstice marks the period of maximum darkness. The US Federal Reserve's first 75-basis points rate hike since 1994, Russia's invasion of Ukraine moving into its 17th week, Chinese authorities scrambling to contain a 'ferocious' outbreak of Covid in Beijing and an emergency meeting of the European Central Bank (ECB) kept global markets firmly on the back foot during the week ending June 15.
In this increasingly hostile investment climate, few EPFR-tracked fund groups flourished. That was particularly true of fixed and multi-asset groups. Redemptions from all Bond Funds hit a level last seen at the height of the Covid pandemic's initial shock in 1Q20, High Yield Bond Funds saw over $11 billion flow out and investors pulled a combined $8.5 billion out of Balanced and Total Return Funds.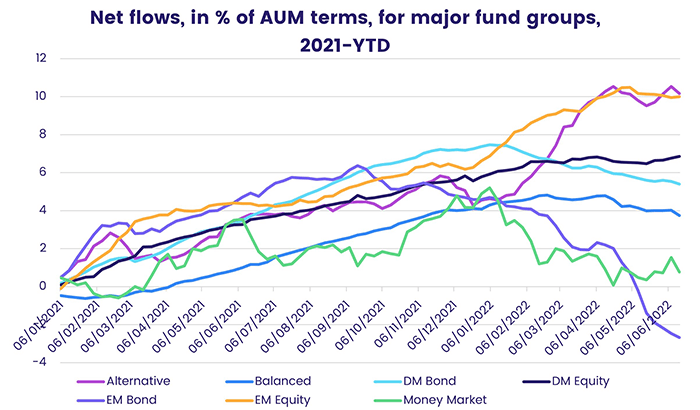 On the other side of the coin, Infrastructure Sector, US Equity and Dividend Equity Funds added to their recent inflow streaks, over $2 billion found its way into China Equity Funds and the diversified Global Equity Funds recorded their 16th inflow in the 24 weeks year-to-date.
Overall, EPFR-tracked Equity Funds posted a collective net inflow of $15.9 billion during the second week of June while Alternative, Balanced, Bond and Money Market Funds recorded outflows of $2.1 billion, $5.1 billion, $18.4 billion and $50 billion, respectively.
At the single country and asset class fund levels, Italy Equity Funds experienced net redemptions for the 18th time in the past 19 weeks and France Equity Funds for the 61st time since the beginning of last year while flows into Australia Equity Funds hit their highest level since 4Q20. Both Municipal Bond and Bank Loan Funds posted their biggest weekly outflows since late 1Q20, Inflation Protected Bond Funds recorded their third inflow in the past four weeks and Cryptocurrency Funds posted a modest outflow.
Did you find this useful? Get our EPFR Insights delivered to your inbox.