Hopes that the impact of Covid's Omicron variant will prove transitory, concern that it will not, and fears that inflation is here to stay whip-sawed global markets during the final days of November. Concerns about the latter issue were crystalized by recently reappointed US Federal Reserve Chair Jerome Powell's admission that price pressures could spur the Fed to accelerate the tapering of its asset purchases.
Mutual fund investors responded by reassessing their outlooks for the global economy, US interest rates and risk assets. Global Equity Funds posted their first outflow in over 17 months, US Bond Funds experienced their heaviest redemptions since late 1Q20, and investors pulled over $4 billion out of High Yield Bond Funds.
Equity funds dedicated to the world's two largest economies, China and the US, attracted solid amounts of fresh money despite their contrasting approaches to dealing with the pandemic, and Money Market Funds extended their longest inflow streak since 2Q20. Two groups associated with market turbulence, Volatility (VIX) and Cryptocurrency Funds, went separate ways with the former posting their biggest outflow since late 1Q20 and Cryptocurrency Funds extending an inflow streak stretching back to mid-August.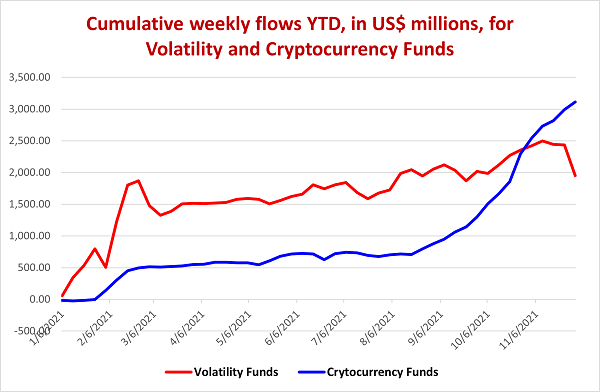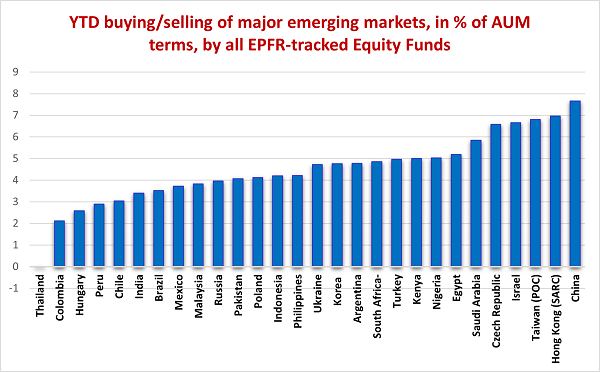 Did you find this useful? Get our EPFR Insights delivered to your inbox.