A US market holiday and Russia's increasingly aggressive posture towards the Ukraine gave mutual fund investors plenty of good reasons to stay on the sidelines during the third week of February – a week that ended with a full scale Russian attack on the Ukraine only hours away.
In the run up to the start of hostilities, investors cautiously cut their exposure to European assets and rotated to funds with US and greater China mandates. Europe Bond Funds extended their longest redemption streak since 4Q18 and Europe Equity Funds posted their biggest outflow since the first week of December while US and China Equity Funds posted their fifth and 11th consecutive inflows, respectively, and US Bond Funds snapped a six-week run of outflows.
"Flows to dedicated Russia Equity Funds hit their highest level in four months during the latest week," noted EPFR Research Director Cameron Brandt. "That suggests to me that many investors were expecting Russia to pull back, triggering a relief rally, right up to the point when the tanks started rolling into the Ukraine."
Overall, EPFR-tracked Equity Funds absorbed a net $6.1 billion to all EPFR-tracked Equity Funds during the week ending Feb. 23 while Balanced Funds took in $427 million, Alternative Funds $2.3 billion and Money Market Funds $6.9 billion as US Money Market Funds recorded their first positive net flow in a month. Investors pulled money out of Bond Funds for the seventh straight week, the longest such run since 4Q18.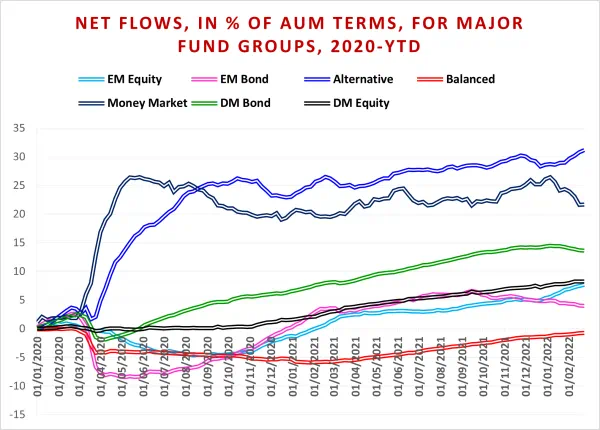 At the asset class and single country fund levels, investors removed money from France Equity Funds for the 57th time in the past 60 weeks and from Germany Equity Funds for the 27th time since the beginning of 3Q21, Norway Equity Funds experienced record-setting redemptions and Chile Equity Funds posted their biggest outflow in over nine months while Vietnam Bond Funds chalked up their fifth consecutive inflow. Convertible Bond Funds recorded outflows for the 13th week running, High Yield Bond Funds extended their longest redemption streak since late 2018 and another $1.5 billion flowed out of Total Return Bond Funds.
Did you find this useful? Get our EPFR Insights delivered to your inbox.