In this blog, EPFR's Olivia Blaszkowski expands on BBC's recent article, US-China trade hits record high despite rising tensions.
View from EPFR
Recent data shows (a) trade between the US and China hitting all-time highs and (b) that trade remains heavily tilted in favor of China. The BBC article we are addressing here notes that, "American shoppers spent more on Chinese-made goods, including toys and mobile phones."
EPFR's flow data certainly captures the tailwind that China Technology Sector Funds have picked up from this willingness to 'buy Chinese' (see chart below). But is it capturing the overall picture, given the continuing deterioration of Sino-US relations?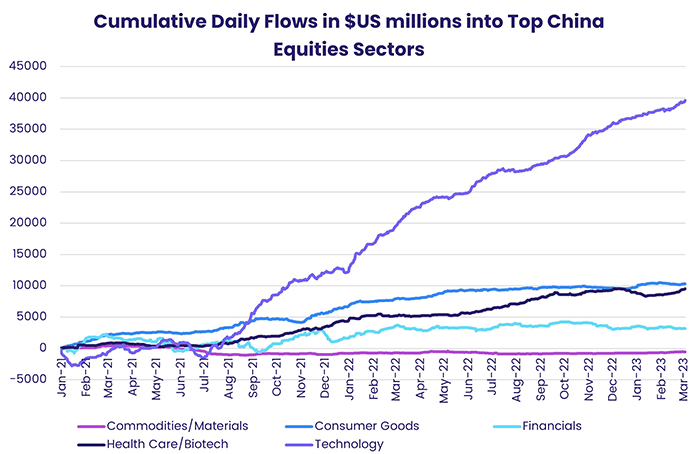 To get a better overall picture of how US investors compare to the rest of the world when it comes to investing in Chinese assets, we will look at cumulative flows into China equities using the US and all domicile filters. We will also tighten the focus to Chinese technology stocks.
Those flows show that US investors account for only a small portion of total flows into all China equities, yet they play a strong role in the inflows of the China technology sector.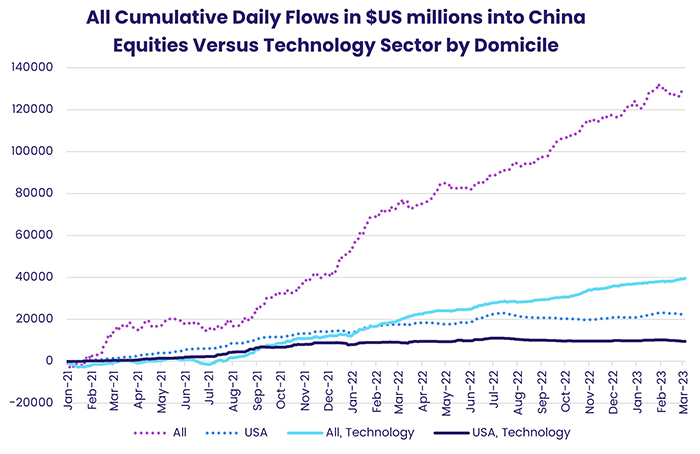 To get a second perspective, the graph below shows the same cut of data but with flows represented as a percentage of AuM.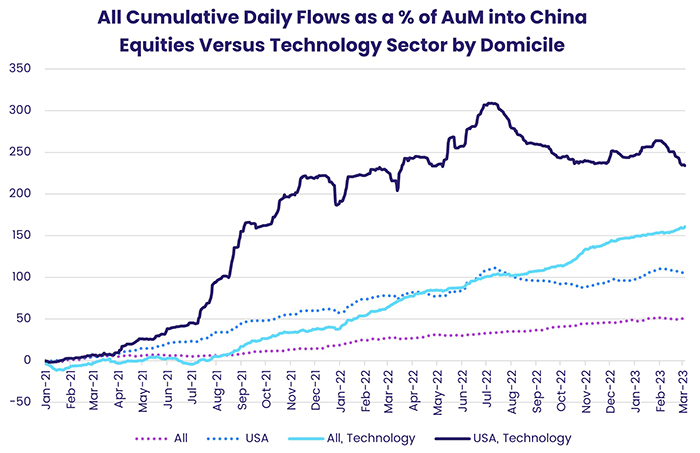 The above graph shows that US investors invested more, in relative terms, to China equities – and especially more to China's technology sector – than the overall universe of investors over the last two years. However, if we only look at the most recent trends from both perspectives, we see consistent overall inflows to China but US investors pulling back. Therefore, investor sentiment towards China from a US perspective has switched from positive in 2021 and 2022 to negative year-to-date.
Did you find this useful? Get our EPFR Insights delivered to your inbox.