Since the Covid-19 pandemic started accelerating in Italy in late February, European markets have tumbled. Almost all European stocks are in negative territory year-to-date irrespective of sector, industry, or country of origin. In terms of scale, the quarterly drop is the highest in 33 years, and the intensity of it is unusually high – more than 35% of the total market capitalization has been lost in only three weeks.
It is likely the only investors who made partial profits out of this were those hedge funds who had short positions in stocks.
According to Caretta Data, a US-based company specializing in a buyside analytics, 199 hedge funds had at least one short position on a European stock on 20 February 2020. The average size of their position was around 1% of the total shares outstanding and the biggest position's size in terms of shares outstanding was at 18.5%.
As Figure 1 shows, as of March 31, the most shorted sectors were Energy and Industrials, whereas the least shorted sectors were Healthcare and Financials.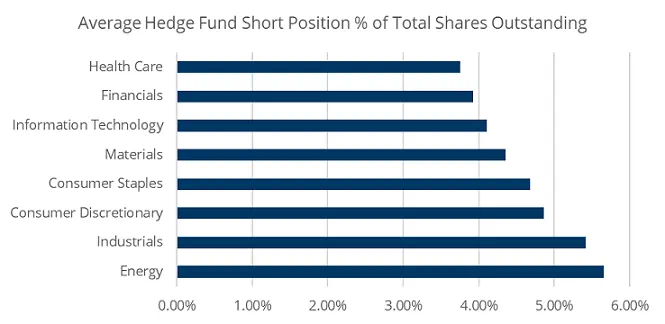 Figure -1: Average short positions as % of total shares of outstanding on 31.01.2020.
Did you find this useful? Get our EPFR Insights delivered to your inbox.