Flows and allocations to different sectors and sector-related fund groups over the past 14 months have been marked by conviction, record inflows – and sharp changes of direction. EPFR's data also captures some significant thematic shifts.
Going into the fourth week of the Russian invasion of Ukraine an older theme – the Covid pandemic – was reasserting itself. Caseloads were again climbing in Korea, China and parts of Europe. Investors who had been reducing their exposure to vaccine makers, online entertainment and commerce, green energy and the work-from-home story, abruptly reversed course.
The week ending March 16 saw flows into EPFR-tracked Healthcare Biotechnology Sector Funds hit a 10-week high and Technology Sector Funds post their fifth inflow into past six weeks.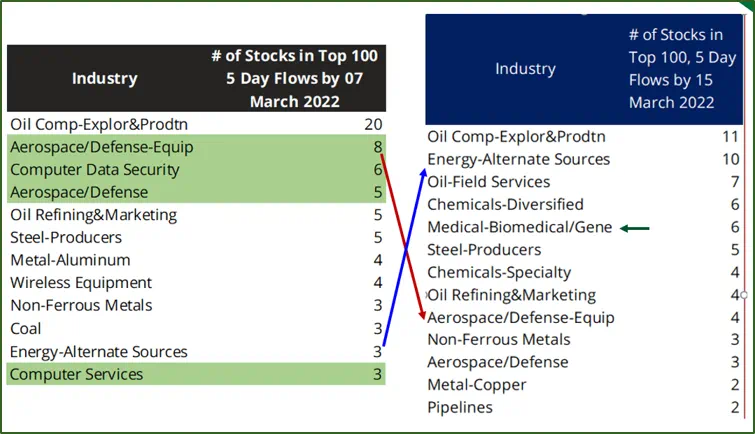 Stock-level data painted a similar picture. There were some marked shifts between the second and third weeks of Russia's invasion of Ukraine, with the number of oil exploration and production stocks in the top 100 ranked by flows from EPFR-tracked funds nearly halved. The same is true of defense-related aerospace plays.
After the initial rush into 'old school' energy plays, investor focus has shifted back to the alternative energy providers on whom rests any hope of independence from Russian energy exports. Spikes in new Covid cases in Europe, China and Korea reminded investors that yesterday's crisis is still with us. That prompted renewed interest in biomedical stocks.
Did you find this useful? Get our EPFR Insights delivered to your inbox.