With the European Central Bank meeting the day after the latest reporting period and US Federal Reserve policymakers convening five days later, flows to EPFR-tracked fund groups were predictably subdued in early June. Investors opted for liquidity, with flows into Money Market Funds hitting a nine-week high, while steering clear of most fund groups tied to European and emerging markets assets.
Dividend Equity Funds remained popular, absorbing fresh money for the 21st time in the 23 weeks year-to-date, and Equity Funds with socially responsible (SRI) or environmental, social and governance (ESG) mandates posted their 11th inflow in the past 12 weeks. Alternative Funds pulled in over $2 billion during the week ending June 8 and Infrastructure Sector Funds extended an inflow streak stretching back to early February.
Expectations the ECB will start tightening in July and that the Fed will hike its key interest rate by 100 basis points over the course of its June and July meetings kept the pressure on Emerging Markets Equity and Bond Funds, with the former racking up their fifth straight outflow and Emerging Markets Bond Funds experiencing net redemptions for the 19th time in the past 20 weeks.
Emerging Markets Money Market Funds were also the exception among liquidity fund groups, posting their biggest outflow since late November as redemptions from China MM Funds hit their highest level since late 4Q20. Flows into Europe MM Funds, meanwhile, climbed to a 13-week high and US MM Funds pulled in over $40 billion.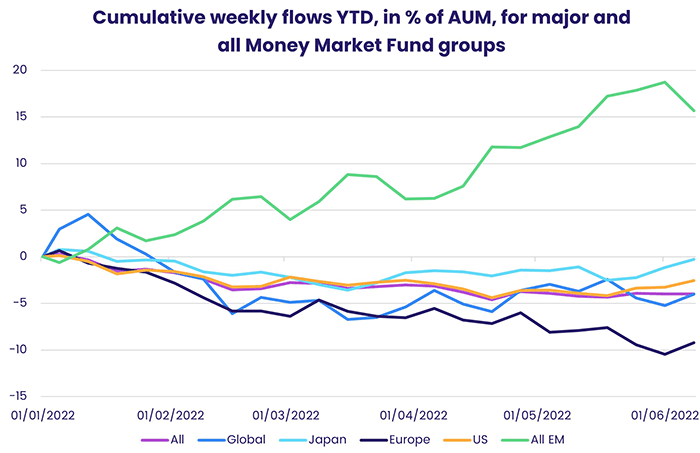 At the asset class and single country fund levels, China Bond Funds extended their current run of outflows to 18 weeks and $18 billion, redemptions from Spain Bond Funds hit their highest level since late 4Q19 and Saudi Arabia Equity Funds recorded their biggest outflow since the first week of 2021. Convertible Bond Funds, which posted their biggest inflow since late 3Q21 the previous week, chalked up their 24th outflow in the past 24 weeks and money flowed out of Total Return Bond Funds for the 17th straight week.
Did you find this useful? Get our EPFR Insights delivered to your inbox.