In this blog, EPFR's Azalea Micottis expands on a recent Barron's article, Banks Get Another Credit Downgrade and Stocks Drop.
View from EPFR
Where, and at what costs, are US banks going to secure the funds they need to operate? Who will they lend to? What about their exposure to real estate in an era of rising mortgage rates and widespread working from home? Given these challenges, and the failure of three regional banks earlier this year, it is not surprising this industry has come under increasing scrutiny during 3Q23. Among those doing the scrutinizing were the major ratings agencies – Fitch, Moody's and S&P Global – and the conclusions they reached resulted in downgrades for multiple US financial institutions.
In a previous Off the Wire piece, the implications of the aforementioned factors on investor sentiment towards Money Market funds was investigated. Since the release of this publication in April, the inflow of money to these higher-yielding investment vehicles has continued its upward trajectory. As shown in the chart below, EPFR's weekly Fund Flows data reveals that year-to-date accumulated flows, as a percentage of total assets held by the fund group, has eclipsed flows observed over the previous two years. In addition, in mid-April 2023 these Money Market Fund flows are seen to cross above levels observed during the financial market turmoil of 2008.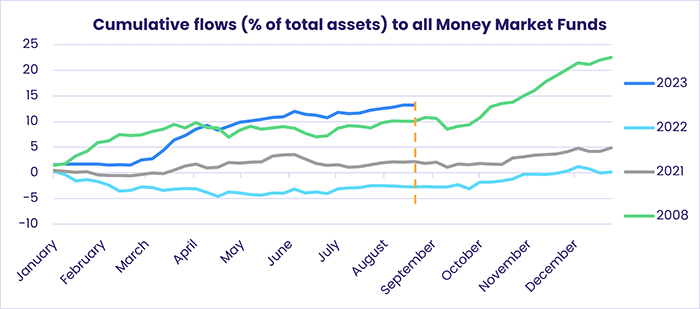 Does this spell more trouble ahead for US regional banks? When we look at the evolution of professional equity portfolio managers' positions towards the financials sector and the banking industry, which is charted on the chart below, we can see a noteworthy split in the responses of active and passive managers.
EPFR's monthly Sector and Industry Allocation datasets reveal that while global-mandated active fund managers have maintained a bearish stance towards the banking industry – and the financial services sector as a whole – active US managers are somewhat more optimistic relative to their passive counterparts. Irrespective of the underlying financial backdrop, the latter appear to have been ramping up their exposure to banks and financials since April and February 2023 respectively.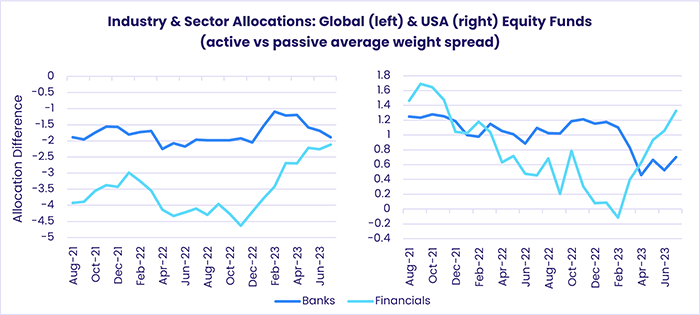 Did you find this useful? Get our EPFR Insights delivered to your inbox.