In this blog, EPFR's Azalea Micottis expands on a recent The Economist article, Investors' enthusiasm for Japanese stocks has gone overboard.
View from EPFR
With the momentum from its post-COVID reopening, a weakened currency making Japanese assets even cheaper and slow burning corporate reforms beginning to bear fruit, Japanese equities have enjoyed a burst of popularity with foreign investors this year. In this article, The Economist notes that year-to-date, the market has received the largest inflow of money compared to any nine-month period over the last ten years. As a result, many fund managers now run the risk of being too overweight in this market.
Indeed, EPFR's daily Fund Flow data shows that Japan-focused ETF and mutual fund performance has followed an upward trajectory since the beginning of 2023. However, it is primarily the passive foreign-domiciled Japan Equity Funds that have benefited from investors' appetite for the country's stock market returns.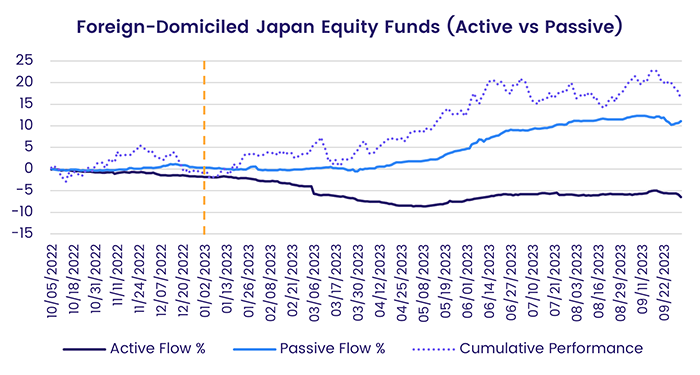 At the stock-level, just over 50% of the Nikkei index members held by global-mandated ETFs and mutual funds experienced an increase in active manager positioning relative to passive managers since the start of the year. However, the amount by which those active managers increased their active weights was larger, on average, than the amount by which positions were reduced.
The top five stocks that received the largest increase in active weights, defined here as the change in the ratio between average active global fund positions and average passive global fund positions between January and August this year, are displayed in the figure below. Similarly, the bottom five are displayed in the chart that follows.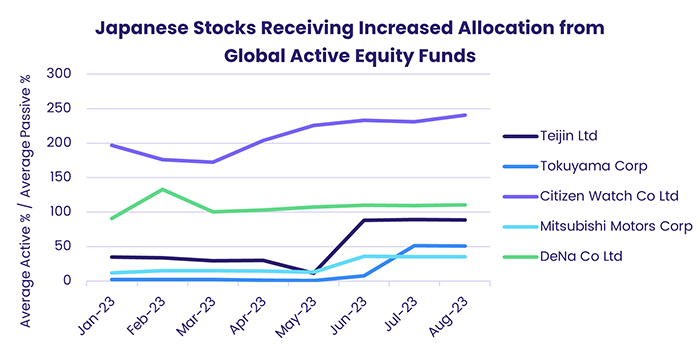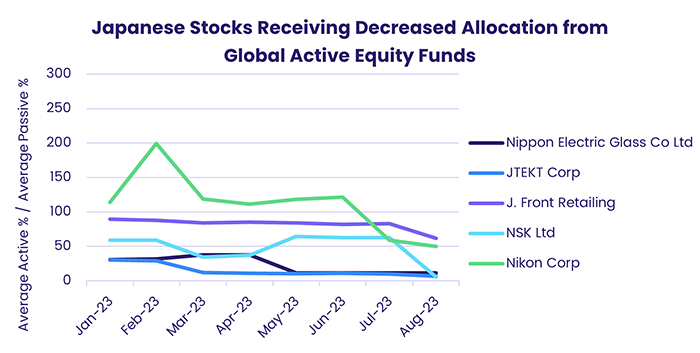 Did you find this useful? Get our EPFR Insights delivered to your inbox.