In this blog, EPFR's Olivia Blaszkowski expands on a recent Markets Insider article, 7 Meme Stocks to Buy Before They Soar to New Heights in 2023.
View from EPFR
In recent years, the financial landscape has witnessed the emergence of "meme stocks", characterized by their rapid and often volatile price movements influenced by online communities and their collective actions. Understanding the sentiments that fuel these phenomena is crucial for investors and analysts alike. In this Off the Wire, we explore how EPFR's Stock Flows and Allocation data can provide valuable insights into investor sentiments surrounding meme stocks, shedding light on the dynamics behind these market disruptions.
Focusing on trends of the top three meme stocks chosen for this article published at the end of May – Nvidia (NVDA), Advanced Micro Devices (AMD), Microsoft (MSFT) – we observe a striking contrast in flows since the beginning of May.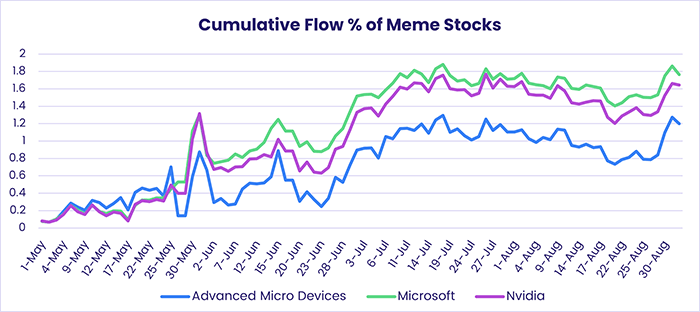 Microsoft and Nvidia, one an established giant in the tech industry and the other a bellwether for artificial intelligence (AI), have attracted inflows of $5 billion and $1.7 billion from EPFR-tracked Equity Funds, respectively, over the latest four-month period. Advanced Micro Devices, which currently operates on a smaller scale in comparison to Microsoft and Nvidia, managed to attract $400 million in flows during the same period.
Microsoft typically commands a top spot when the daily inflows captured by EPFR's Stock Flows dataset are tallied. But it experienced an additional surge during this meme stock phase. Similarly, Nvidia and Advanced Micro Devices witnessed a notable spike in flows driven by their meme stock status, both during the initial hype in late May, and again more recently as they made another appearance on Wall Street's Bets Hottest Meme Stocks.
Although Microsoft is not currently trending as a meme stock like the others, recent inflows for the company still show similar trends.
Analyzing EPFR's "meme stock" flow data not only offers insight into investor sentiment during these market movements, but also provides a broader perspective that encompasses all forms of investor sentiment, shedding light on how much influence "meme investors" have on more established stocks.
Did you find this useful? Get our EPFR Insights delivered to your inbox.