In this blog, EPFR's Azalea Micottis expands on a recent Bloomberg article, Banks Choosing Paris Over London Post Brexit Boost France's Exports.
View from EPFR
An accelerating trend in the relocation of British and American banking activities to Paris, due to Brexit, has boosted exports in services from this European country.
EPFR Fund Flows and Sector Allocations datasets suggest, however, that investors and the professional portfolio management community are reluctant to embrace this shift to France. After all, the first quarter ended with French regulators raiding five major banks suspected of tax fraud, and the industry was described in 2017 as "the enemy of the French people" by then presidential candidate Marine Le Pen. First, active relative to passive average allocations of cross-border equity funds towards the Financials Sector in the UK and in France have both remained strongly underweight over the last year and a half of EPFR Sector Allocations history. Below, it is shown that French Financials' active allocations have in fact, on average, remained more strongly bearish than in the UK since February last year.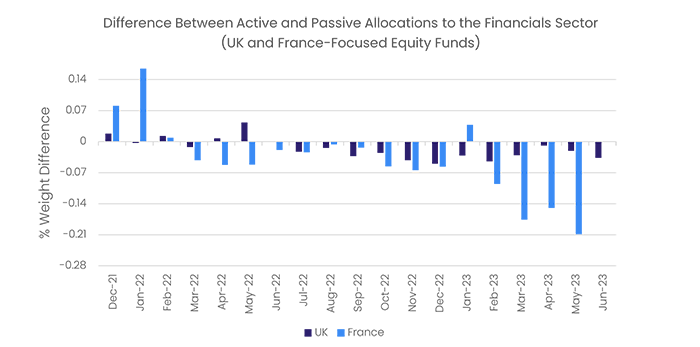 Moreover, flows as a percentage of total assets from cross-border equity funds indicate that Financials has been among the lowest ranking sectors in France in recent weeks. These rankings are measured at the end of the week, based on the cross-sectional trailing twenty-day percentage flows into each sector. This implies that, as of July 21st, Utilities, Healthcare and Financial Sectors have received the lowest amounts of investor flows throughout the month prior, respectively. Conversely, Technology, Real Estate and Materials have relatively outperformed in terms of investor money flow.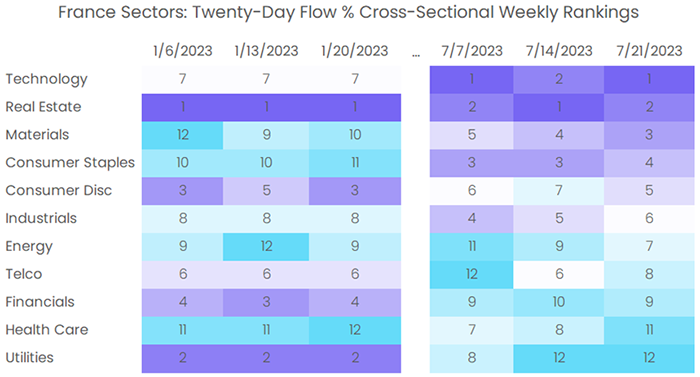 Did you find this useful? Get our EPFR Insights delivered to your inbox.