In this blog, EPFR's Kirsten Longbottom and Steven Xinlei Shen expand on a recent The Wall Street Journal article, Muni Junk Bond King John Miller to Retire.
View from EPFR
The likelihood of going into 2024 with the economy in recession, risk appetite flickering on and off in 2Q23, and the recent news that Nuveen's long-serving municipal bond chief John Miller is set to retire in June prompted us to dive deeper into EPFR-tracked Bond Funds.
Our data offers a contradicting view to the article's point that "Investors remain wary of municipal bond funds… but high-yield funds have rebounded slightly." EPFR-tracked High Yield Bond Funds have seen $12 billion flow out year-to-date while Municipal Bond Funds have absorbed a net $7.6 billion. However, in the week ending April 26, flows into Municipal Bond Funds reached a 14-week high at nearly $1 billion. The next week, flows reverted to the trend seen in the past two months as the group racked up their ninth outflow in 11 weeks. But investors have been slightly less risk averse since mid-March, rotating from Investment Grade to High Yield Municipal Bond Funds.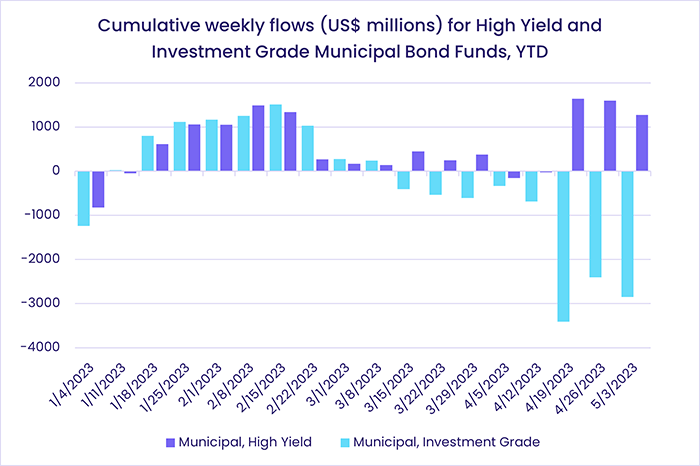 Behind the headline number for all Bond Funds this year has been a pronounced bias in favor of funds with investment grade mandates. But the monthly flows and performance of HY and IG Municipal Bond Funds have closely tracked one another.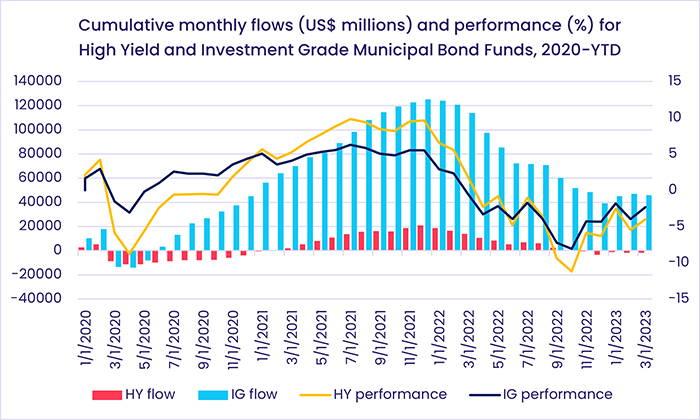 Below is a heatmap showing year-to-date flows to US Municipal Bond Funds by state. So far this year, less than one-third of the states are seeing inflows while most of the funds dedicated to east coast and southern states are experiencing outflows. The redemptions from New York and Massachusetts-dedicated funds alone are more that the total inflow recorded funds with multi-state mandates.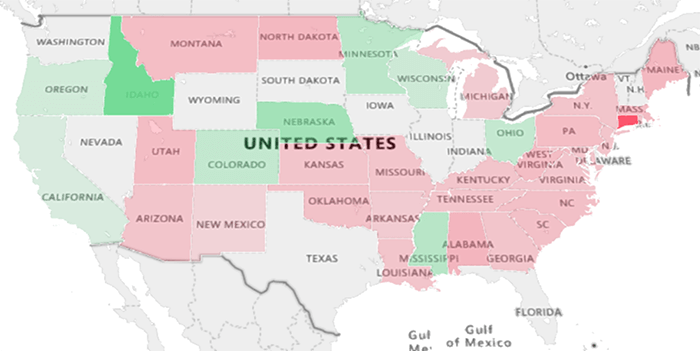 Did you find this useful? Get our EPFR Insights delivered to your inbox.